Parts and Material You Can Trust
We understand that the aerospace and defense industries are especially vulnerable to counterfeit parts and we are laser-focused on protecting the integrity of your supply chain. Our multi-level approach to quality and counterfeit prevention includes avoidance, detection, mitigation and disposition.
Carefully selected suppliers, an in-house Counterfeit Detection Lab and a highly-trained team of technicians and quality inspectors and an extensive list of quality certifications all support our mission of keeping your systems operational, ready and safe.
More Quality Assurance and Counterfeit Prevention Certifications than any other Distributor in the Industry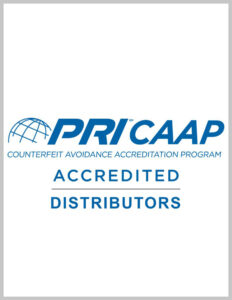 Counterfeit Avoidance Accreditation Program (CAAP) AC7402. CAAP brings together technical experts from both industry and government for ensuring compliance to standards associated with the prevention, detection, and responses to the threat of counterfeit parts in aviation, space, and defense.
Defense Logistics Agency Testing Supplier ​
DLA Qualified Testing Supplier List (QTSL)
CTG is one of the few suppliers named on DLA's Qualified Testing Suppliers List, a program used to pre-qualify sources for certain electronic components that are purchased and managed by the DLA Land and Maritime. QTSL suppliers must successfully meet strict counterfeit mitigation practices and quality assurance standards.
This SAE Aerospace Standard standardizes practices to identify reliablh1. h2. e sources, mitigate risk of distributing counterfeit parts, control suspect or confirmed counterfeit parts, and report suspect parts to authorities.
Program defines mandatory practices for use by Independent Distributors to detect and avoid the delivery of counterfeit electronic components to their customers.